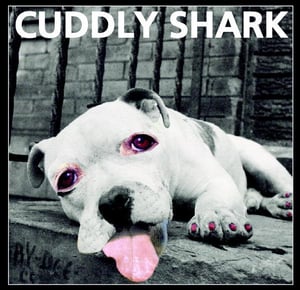 £

7.00
The eponymous debut album from Glasgow's finest hillbilly rockers Cuddly Shark. Recorded by Scott Maple (Le Reno Amps) and Ross McGowan (Dananananaykroyd, We Are the Physics), Cuddly Shark encapsulates the band's purist plug in and play ethos with a touch of ice cold rock'n'roll. Idiosyncratic lyricism and odd anti-melodies combined with foot down pedal-to-the-metal performances prove deadly in this trios hands.
Brimming with punk attitude and spilling over with melodic brilliance Cuddly Shark will never have an ounce of pretentious hip fat on them. Their live shows have seen comparisons made to Husker Du, Minor Threat, Ween, Fugazi and Weezer. Yet Cuddly Shark are unmistakably their own entity, a blistering romp of rock'n'roll carnage firing as loud as they can from a post-rock cannon.
Includes the smash-hit singles, The Punisher of IV30, The Sheriff of Aspen Bay and Woody Woodpecker.